William Penn Adair Rogers (1879-1935) was born in Indian Territory, an area of land that later would become known as Oklahoma. Will began his entertainment career as the "Cherokee Kid" with his fancy rope tricks. He had an extended film career, staring in movies from 1918 to 1935. Will Rogers was also a syndicated columnist and radio guest. He was also a promoter of aviation. His insightful observations of the human condition won him acclaim as the Cowboy Philosopher.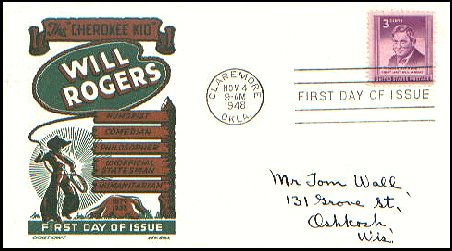 Will was a strong advocate of Scouting. One of his most famous quotes was
"The trouble with the Boy Scouts is ... there aren't enough of them."

Near his birthplace is the Will Rogers Scout Reservation in Cleveland, Oklahoma. The Will Rogers Scout Council existed for 51 years before it was consolidated with Great Salt Plains Council in the summer of 2000 to form the Cimarron Council in Oklahoma.
Will Rogers died in a plane crash near Point Barrow, Alaska with his good friend, aviation legend Wiley Post in August 1935.