Jessie Willcox Smith (1863-1935) was a student of Howard Pyle who specialized in pictures of mothers and children for magazines. In addition to creating magazine illustrations, she is also remembered for her illustrations in children's books such as Charles Kingsley's "The Water-Babies".
Jessie was an American woman who in keeping with her family's expectations became a kindergarten teacher. After two years of teaching she realized that it wasn't for her, and enrolled in art school. She focused her career on earning a living as an illustrator and sought out the best teachers.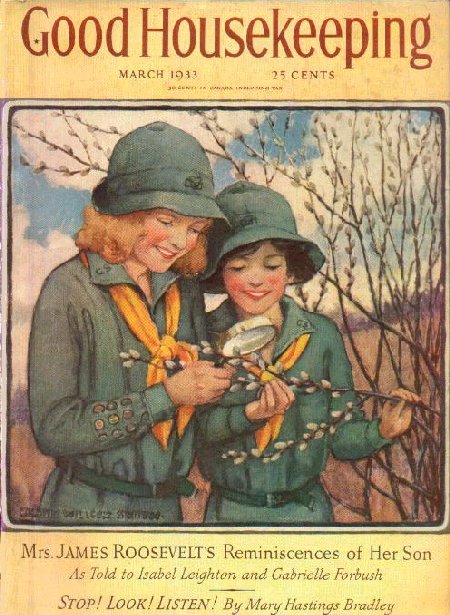 This is an illustration of two Girl Scouts in green uniforms looking through a magnifying lens at buds on a tree. She became famous for her illustrations of mothers and children which appeared in many children's books and on the covers of "Good Housekeeping" magazine. She did over 200 covers for GH.

On February 1, 2001, the U.S. Postal Service paid tribute to the unique and historic art form with the issuance of the American Illustrators stamp pane. Jessie Willcox Smith was included with this set with the above illustration "The First Lesson."