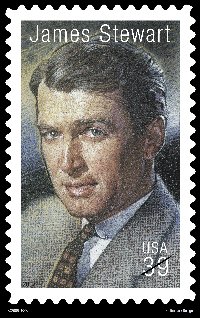 The United States Post Office is honoring James Stewart in 2007 with the 13th stamp in the "Legends of Hollywood" series.
James Maitland Stewart (1908-1997), was a Boy Scout from Indiana, Pennsylvania who became a renowned movie actor and U.S. Air Force Brigadier General. An amateur magician and accordionist from boyhood, he made his acting debut in a Boy Scout play. Jim graduated with honors from Princeton with a degree in architecture in 1932, but instead made his career in entertainment. He appeared on Broadway, radio, the silver screen and television. His most famous movie roles were "It's a Wonderful Life" and "The Philadelphia Story." He was presented the Lifetime Achievement Award from the Academy of Motion Picture Arts and Sciences in 1985.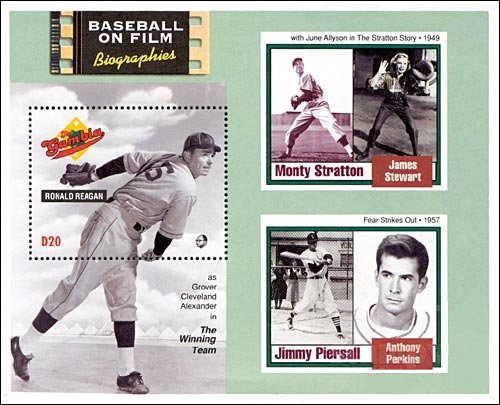 James Stewart also portrayed a Boy Scout leader. In "Mr Smith Goes to Washington;" when a Wisconsin senator dies, patriotic Boy Scout leader Jefferson Smith [Stewart] is appointed his successor. The selvage design on the 2007 USPS issue depicts a scene from this movie.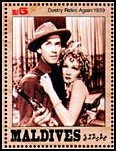 James did mention stamp collecting once during his movie career in his role as Thomas Jefferson Destry in "Destry Rides Again."

"Oh, I think I'll stick around. Y'know, I had a friend once used to collect postage stamps. He always said the one good thing about a postage stamp: it always sticks to one thing til it get there, y'know? I'm sorta like that too."
After the start of a successful Hollywood career, James volunteered for the U.S. Army Air Corps in 1941 and flew twenty B-17 and B-24 combat missions in Europe during World War II. He would rise to the rank of Brigadier General in the Air Force Reserve by his retirement in 1968.
James Stewart remained active in Scouting as an adult. He appeared in the "Jamboree Variety Review" for the Third National Boy Scout Jamboree (July 17-23, 1953) held at Jamboree City (Irvine Ranch), California. At a 1958 Scouting dinner in Indiana, Jim said, "I wouldn't trade my experiences in Scouting for anything." He was awarded the Medal of Freedom, America's highest civilian honor, by President Ronald Reagan on May 23, 1985.