On 1 August, 1998 the Åland Post issued a stamp with a Sea Scouting design. The stamp focuses on Satahanka IX, an international sea scout camp held in Åland that August. The stamp original, the first day cover and cancel were designed by the Åland artist Allan Palmer.
The stamp depicts objects associated with Sea Scouting such as various knots and a compass. The number of active Scouts in Finland is a little more than 88,000. Co-operation, respect and mutual understanding across the borders have always been keywords to the Scouts. The Finnish Boy Scouts and Girl Guides joined forces in the early seventies and have had mutual activities ever since. The name of the main Scout association in Finland is Finlands Scouter r.f., The Guides and Scouts of Finland.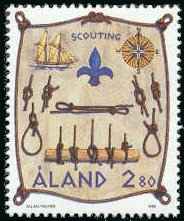 Outdoor activities such as camping, excursions and hikes are important elements of Scouting. Sea Scouts devote most of their time to activities related to the sea such as sailing, navigation and sea rescue.
During the days 1-8 August 1998, a large Sea Scout camp was arranged in the historical environment of the ruins of the Bomarsund fortress in Åland. The Satahanka IX is the ninth international Sea Scout camp arranged by the Guides and Scouts of Finland, and it is also the largest Scouts event of the year. The first Satahanka camp was organized in Pargas as early as 1955. A total of 1,500 Scouts, of which approximately 300 from abroad, were expected to participate in this event. Some of the activities on the programme were sailing, archaeology and adventures on foot and bicycle and at sea. The participants also learned more about the seafaring traditions and the history of the province of Åland.
Philatelic Information
Date of issue: 1 August 1998
Issue: 400,000
Denomination: 2.80
Size of stamp: 29 x 35.96 mm
Size of sheet: 2 x 15 stamps
Perforation: 14 x 14
Paper: 102 g/m2
Printing: 4-colour offset
Printing house: The House of Questa