The New York World's Fair of 1939-40 attracted the attention of Scouts in the United States. Many thousands visited the Fair, while other Scouts participated in the Service Corps.
The Boston Sea Scout Division organized a special World's Fair Cruise of Sea Scout vessels. The boats sailed from Boston Harbor through Sandwich, Massachusetts enroute to New York Harbor. They stayed at Sandwich from August 17-20, 1939. A commemorative cachet was printed to mark the event. A special line was added to allow the Sea Scout Ship (S.S.S.) to add their name. These envelopes were then hand-cancelled in the local post office.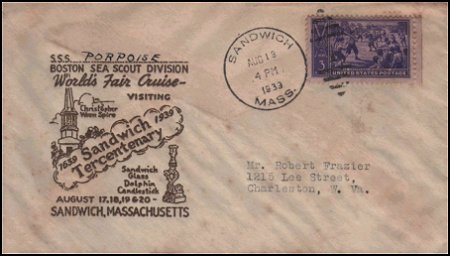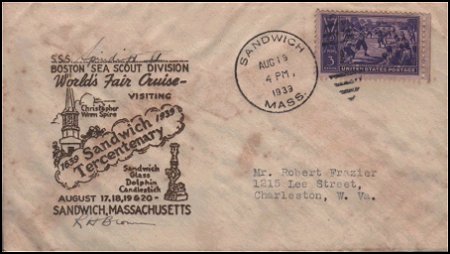 Some envelopes were signed by members of the crew, such as this envelope from the S.S.S. Spindrift II, with Skipper "R H Brown" signature.