The first day ceremony took place on the afternoon of June 30, 1950 in front of the 3rd National Jamboree Headquarters tent. Mr. Amory Houghton, National President of the Boy Scouts of America presided at the ceremony. The Post Office Department was represented by Mr. Joseph J. Lawler, who presented first day albums to Mr. Houghton, Dr. Schuck and other national Scout officials. Music was furnished by the Madison Wisconsin Scout Bugle Band.
Scout Roy Johnson of Troop 24, Minneapolis, Minnesota led the Scout Oath at the close of the ceremony. He also received a first day album, making him the first Boy Scout to officially possess this stamp. His troop created a series of first day covers that contain a special printed cancel with the slogan "First Advocates of the Jamboree Stamp."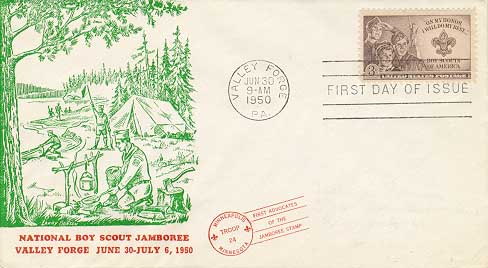 See Levy 41a page from the Levy Catalog for complete details on all Troop 24 first day covers. See 1950 BSA Second National Jamboree & 40th Anniversary Boy Scout Cachets for the Mellone FDC Catalog cross-referenced with Levy's catalogue.
The official program of the first day ceremony was used as the official first day cover. Copies were mailed to all members of the National Council. The first day ceremony programs were printed on both sides. They were then folded in thirds for mailing.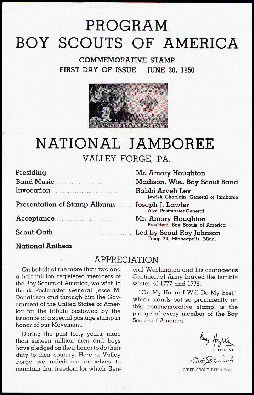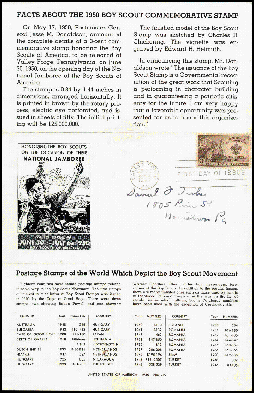 Cancellations of the first day covers were both hand stamped and machine canceled at the nearby Valley Forge Post Office. Some covers were processed at neighboring post offices using the Valley Forge postmark.
---
SOSSI Journal, Volume 10, Number 7-8, July-August 1961
SOSSI Journal, Volume 45, Number 2, March-April 1996