The United States Postal Service (USPS) created publicity photos for new releases. These were sent to newspapers, magazines and cachet producers. The photos are usually required before the stamps are produced, therefore preliminary artwork is used for the photos. Almost all are glossy black and white on photo paper. Photos are often included as part of the philatelic history of a stamp.
Here is a 3" x 4" Black and White promotional photo of the Boy Scouts of America 4c Postage stamp. Official disclaimer on top of photo states "This photograph may be reproduced for philatelic, educational, historical, and newsworthy purposes, in black and white in any size."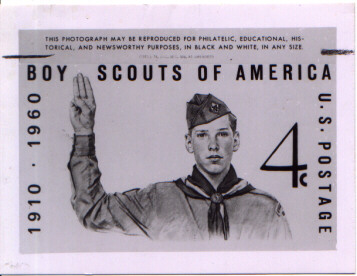 The computer information age has greatly changed news releases. The "Celebrate the Century" series included the "Scouting Begins" stamp and was publicized on the USPS website with a digital image of the stamp.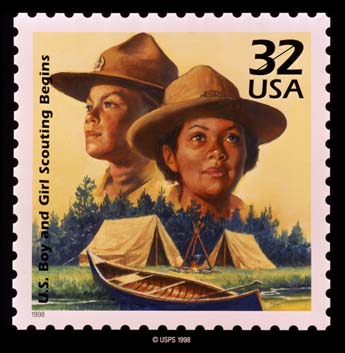 ---
Images and research material used with permission of The Stamp Professor