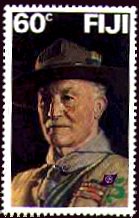 Lord Baden-Powell is often given much of the credit for creating the Wood Badge Adult Leader Training Program in 1919. It is more likely that he gave guidance on the thrust and purpose of the course rather than the actual course design. He is however responsible for the presentation of the distinctive Wood Badge beads. Hung on a thin dark leather cord, the Wood Badge beads can be seen on several portraits of B-P used as stamp designs.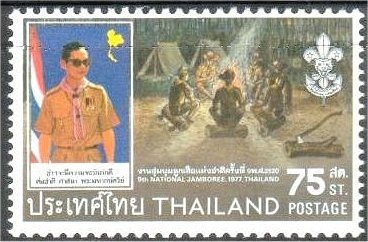 This Thailand Scout stamp issue depicts King Bhumibol as a Scout Leader, a Scout camp and an axe in the log. The stamp commemorated the 9th National Jamboree held in 1977. The King is wearing his Wood Badge beads, woggle [neckerchief slide] and distinctive neckerchief awarded after completing training.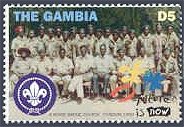 Gambia has the distinction of being the first country in 1995 to issue a stamp commemorating the Wood Badge Adult Leader Training Course. The left stamp is a photo of the leaders who attended the training, and the right stamp shows Scout leader M.J. Sambou from Gambia wearing the Wood Badge beads. The issue commemorated the 1995 World Jamboree.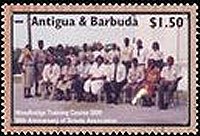 This stamp with a photo of a Wood Badge Training Course was included in the 90th Anniversary of the Antigua & Barbuda Scouts Association issue of 2003.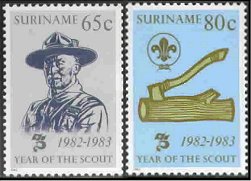 Several other Scout stamps have been issued which show an axe in a log, familiar to those who have attended Wood Badge. This logo is also a common expression of Scouting wood craft in general and these stamps should not be considered "Wood Badge" stamps as they were issued for other commemorative reasons. Only the woggle, beads and neckerchief are approved by WOSM as official Wood Badge trademarks.