Summary

This article provides a detailed description of Scout thematic collections and exhibits. For some other ideas, visit SOSSI Exhibits Collection, or review one of our Online Scout Stamp Exhibits.
1. What is a thematic collection?
A theme, a central idea, or a motif which is illustrated with stamps and other philatelic documents. In a thematic collection the central idea is important in that it gives the collection cohesion by providing a structure and also allowing the use of short concise texts.
It is advantageous to take note of the following guidelines which apply not only to thematic collections, but also to classical international collections. Unless you follow the guidelines it is not recommended to enter your exhibit in a competition.
SAMPLE PAGE


The Principles of the Scout Movement.
1. The Insignia

[A brief explanation on the selection of the Scout Fleur-de-Leis]

BE PREPARED

[Examples of the motto in different languages and on stamps]

[Text explains the significance of the Fleur-de-leis and stars to the Law and Promise]


2. Selection of the theme.



As we are all Scouts [or collectors of Scout philatelic material] it is not surprising that we have chosen the theme of "Scouting." Even in this theme there already exists thousands of stamps and sheets, postmarks, meter slogans, and the like. It is therefore difficult to achieve a complete collection. However, fortunately, a thematic collection does not require this completeness. The more one limits oneself to a certain area or theme, the more one is able to aim for a meaningful completeness.

A list of theme examples;
Scouting of a certain country
Baden-Powell, the founder of the movement
A Scout section, i.e. Cub Scouts, Ventures, Rovers
Girl Guides and Scouts
The movement principles: badges, salutes, Law and Promise
Scouting activities
Jamborees: World, Regional, National
One should ask, with all these areas be careful to make sure that the task is approached with the central idea in mind, and it does not end up as simply a chronological series of stamps and other material. A healthy individual originaliy both in the choice of the theme and in the presentation is desirable.
3. How and What to Collect.
Every collector has his or her own methods. The minority collect in shoeboxes, the majority in albums. Some order everything chronologically, others according to countries, or have already sorted the collection into thematic chapters. The last method has the disadvantage that whole sets must be separated, or that some stamps could go in several chapters. Every collector must find the best solution for him or herself.
Do's of Thematic Collecting
| | |
| --- | --- |
| Likewise, there are no rules stating whether the stamps should be postmarked or in mint condition. However, in a thematic collection, the picture on the stamp should be of prime importance. The picture should not be obscured or distracted from by the postmark. | |
The collecting and organizing of the stamps, postmarks and complete articles is an important preliminary stage in the building up of the collection and its eventual layout. What sort of items belong in a thematic collection? These are the first and foremost philatelic items. These include all kinds of postage stamps, local post issues, souvenir and miniature sheets, special blocks of stamps, stamp booklets, stamps with special printed tabs, selvedge, gutters, etc., and postmarks, meter stamps, overprints and complete items such as postal stationary, aerogrames, newspaper wrappers, postcards, etc.
The presence of postmarks and complete articles is imperative in a thematic collection. Often Scouting and Guiding events are only recorded with a special postmark. With these items the collector has numerous possibilities to show his or her philatelic knowledge as the information and details of a postmark cannot be generally copied out of a catalog. It is also usually more difficult to obtain postmarked covers than stamps. Genuine covers with interesting and if possible legal postal franking markings, stamp booklets, isolated trial proofs, as well as the relevant texts to sheet selvedge can all increase significantly the value of a collection.
Don'ts of Thematic Collecting
Do not use, or only sparingly, Cinderellas, printed cachets, vignettes, picture postcards, etc., as these are not postal items. Picture postcards with stamp and postmark on the front, or maximum cards as they are known, are acceptable.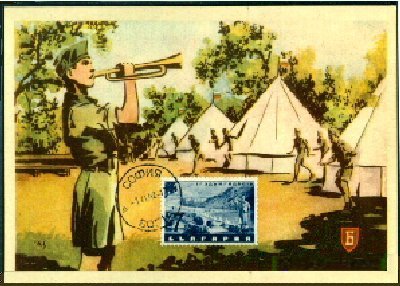 After a certain amount of material has been collected, taking the above points into consideration, then we are ready and can begin working out a plan of organizing and laying out our album pages.
4. Dealing with the Theme.
Whether or not your thematic collection will be a success depends mainly on the way in which the theme is dealt with. Each theme has it's particular characteristics, and requires a good knowledge of the subject. Another aspect is your knowledge of the philatelic aspects, i.e. knowing about the existence of special stamps, sheets, etc. Some of this knowledge can be obtained, for example, by studying publications. The more you know about these two aspects, the easier it will be for you to handle your theme.
The Outline
You can begin with an outline plan for building up the collection. Then later you can consider the finer details. The outline divides the collection into various logical sections using titles, sheet headings, and subtitles. It is important that everything within a section follows in a logical order too. Avoid large leaps from one idea to another. Try and bring order into the collection, and make it understandable even to the lay person. There must be sufficient detail for a smooth and continuous development of the theme.
The outline should be one of the first things that you do, so that you get an overview of the area you have chosen. This outline can be enlarged or modified later. Don't start collecting blindly, or you'll never reach your goal.
Example of an outline:
The Scout Movement - Exhibit Outline

1. Baden-Powell

A - The Founder
B - Commemorate

2. Movement Development

A - Founding
B - Girl Guides
C - Cubs
D - Rovers
E - Sea Scouts
F - Jubilees
G - Promotion

3. Principles

A - Insignia
B - Badges
C - Law & Promise
E - The Salute
F - Handshake
G - Scout Patron

4. The Uniform

A - Boy Scouts
B - Girl Scouts
C - Sea Scouts
D - Worldwide


5. Scout Meetings

A - Conferences
B - JOTA/GOTA
C - Jamborees
D - Camps
E - Rallies
F - Training
G - Rover Moots
H - Reunions


6. Activities

A - Camp Life
B - First Aid
C - Disaster Help
D - Messengers
E - Orienteering
F - Nature Study
G - Games
H - Sports
I - Hobbies
J - Technology

7. Other Events

A - Exhibitions
B - Airmail Mail
C - Rocket Mail
D - Local Post
E - Stamp Shows

The order of the collection is very subjective and not everyone possess the same logic. For example, which of these orders is correct?
The insignias, the Promise, the salute
Law and Promise, the salute, uniform and badges
Finer Details
Before you begin assembling your collection on single album sheets, you must consider the finer details - what comes under the headings. It is at this stage you can show your individuality. You must indicate why individual pieces in the collection are there, and why they are under a particular heading in the collection. You may find writing these explanations a real problem, just how much or little does one write?
---
COOKING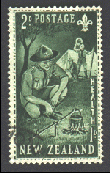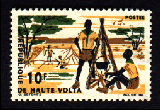 ---


The text should:

not be laborious to read nor difficult to understand
convey the necessary minimal amount of information about the stamp
be as concise as possible.
You can write a short text under each stamp, or under a group of stamps. It is a good idea to draw the attention of the reader to certain details that are not a first glance obvious, e.g. a translation. The philatelic material should however remain the most prominent part of the collection. Longer explanations should be placed above or under the collection on the page, but remember, the longer the text, the less likely it will be read.


5. Layout and Title Page.

The philatelic material that you have now collected should be clearly arranged, according to your plan, and should be pleasing to look at.

The Album Page


The selection of the album pages is important. You can buy them, or make them yourself out of a suitable stiff paper or card. Bought ones may be blank, have a printed border, a grid pattern, or a rectangle at the top for a title. The fine grid pattern is merely a help when printing or arranging the stamps. Don't use pages with a dominating printed border, especially if you plan to exhibit your collection. Aim for an imaginative and individual collection.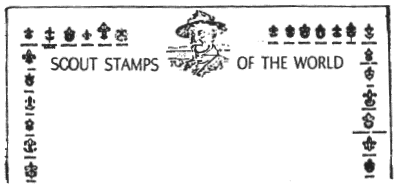 The album page paper should not be too thin, otherwise it may become wrinkled. You should select a friendly color such as white, cream, or light grey, not black or murky colors. Select an acid-free stock, and buy a large quantity at one time. It can be difficult to match later the exact die lot for paper.
In your selection, note if the paper is suitable to write on. Can you insert it into a typewriter or computer printer? Does ink run on it? Can you erase pencil lines used as guides for mounting and printing? Will you be able to buy more of it later? Is it worthwhile buying a sufficient stock of paper at the start. The size of the album page depends on how you want to file the collection. The usual page size is 8 1/2" x 11", or A4 in Europe.
Take care of your pages and stock: store your pages in a vertical position to avoid damage to your stamps. Never store horizontally as the pressure may damage them.

General Impressions:

Does the collection have cohesion, harmony?
Is the wording neatly spaced, not dominating, but not too sparse? Not too large or too small, too colorful or irregular? Is it tidy and easy to read?
Are lines drawn straight, not too thick, not too thin?
If you use non-philatelic decorations, how do you justify this?
Do the pages look too full or too empty?
Look at the collection as a whole. Are the titles and subtitles in the same place on each page? Are the stamps on each page the same distance from the edge?

The Title Page

This should give exact information about the chosen subject, for example 'Scouting - a historical documentation of the Scout Movement,' or 'The Scout Movement - Development, Principles, and Worldwide Activities.'
If you need more room for further explanations, use a second page, which can also contain the list of contents. The contents can be on the title page, especially in a display of only one or several frames.

The Album Pages Design Recommendations

(1) Too much text
(2) Asymmetrical presentations are not too pleasing
(3) Avoid non-philatelic decorations
(4) Don't put things at funny angles

(5-9) Symmetrical arrangements are good
(6-8) The focus should be on the lower half of the page
(9) Avoid top heavy layout


| | |
| --- | --- |
| | The layout should vary from page to page (examples 5-8). The same arrangement is monotonous. Letters or whole articles where the point of interest is only in the upper half can overlap (10). |
Attaching the Stamps to the Pages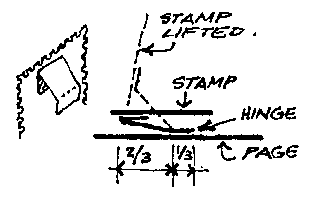 Stamp hinges can be used for 'used' stamps. Mint stamps should be placed in mounts. Letters and larger articles can be attached using photo corner mounts. Do not use glue or tape of any kind.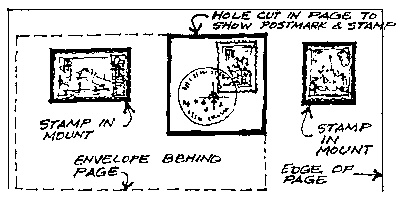 Printing Pages
Lettering should not be too large. For the text, 1.5 to 3mm (10-12 point) is good, and 3 to 5mm (12-20 point) for titles. The ink should be of such quality that it will last for years. It should dry quickly and not smudge. Pencils, ballpoints, felt tip pens and colored pencils are not recommended.
Ways of Lettering Pages
It is possible to combine different lettering methods, but be careful as they should harmonize. Have a look at exhibitions at other materials and methods and compare the various options available to you.
Handwriting is very personal. It can be simple or decorative. One should be able to reproduce the same style years later.
Typewriting is frequently used. With an electric typewriter it is possible to use a variety of typefaces. The text can be typed directly onto the page, or onto a separate page and then pasted onto the page. You are limited in choice of colors.
Computers are most commonly used today. You can either create page templates in desktop publishing programs, or use one of the custom album page programs designed specifically for stamp collecting. Even if you don't own a computer, computer business centers are now commonly available that rent the use of computers and you can pay for all pages that you print. Computer laser printers are also recommend instead of inkjet printers. The ink from inkjet printers tends to smear with humidity when mounted in protective plastic sheet covers.

Other Important Information Sources on Exhibiting
---
SOSSI Journal, Volume 37, Number 10, October 1988
Translation by Dr. Val Hollard for TE KUPA,
New Zealand Scout Stamp Society Journal
First Published by Association Suisse des Philatelistes Scouts