The XII World Scout Jamboree was the "Jamboree of Friendship." 1967 marked the 60th anniversary of the start of the Scouting Movement and the first World Jamboree to be hosted in the United States. This postal card was a belated compromise by the U.S. Postal Office to commemorate the XII World Scout Jamboree.
Every host country had issued a stamp since the IV World Jamboree held by Hungary in 1933. This card was issued only 3 months after a suggestion by Linn's Stamp Weekly for a commemorative postal card. This was the first postal card issued to honor a world jamboree.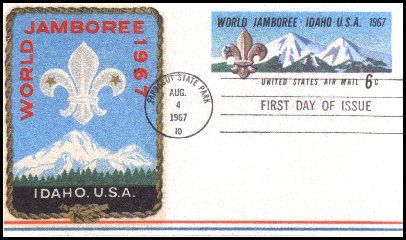 The postal marking was the largest in size the U.S. had issued to date. The design shows Borah Peak in the Lost River Range and the Scouting fleur-de-lis emblem. The U.S. Post Office again established a station for first day cancels at the Jamboree site on Farragut State Park. The card was valid for airmail postage to Canada and Mexico, in addition to all points in the U.S. Many cards were overprinted as cachets.
---
---