The XIV WJ "NORDJAMB" was held at Lillehammer, Norway. The theme of "Five Fingers, One Hand" symbolized the five Nordic nations, Denmark, Finland, Iceland, Sweden and Norway that co-hosted the Jamboree.


Norway publicized the WJ by issuing two stamps honoring Scouting in Norway. Both the Boy Scout and Girl Scout badges are shown on the stamps. The 125-ore stamp depicts Scouting in summer. The 140-ore depicts Scouting in winter.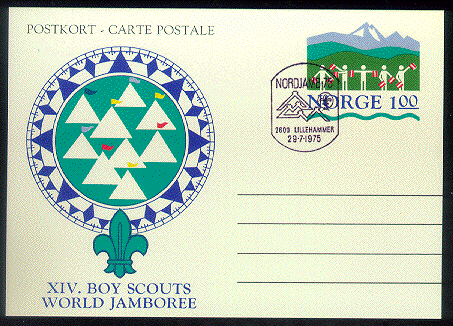 Norway printed a 100 ore post card as belated response to requests for a stamp to honor the Jamboree. The 5 flag colors of the stylized tents represent the five host Nordic countries of NORDJAMB. The 5 Scouts spell out "N-O-R-G-E" with Semaphore code.
---
---