Walt Disney (1901 - 1966), Boy Scout who became the greatest American cartoonist and film producer. In 1928, he created the character Mickey Mouse, in "Steamboat Willy," pioneering the concept of animated cartoons. In 1938, he introduced his first full-length animated cartoon, "Snow White and the Seven Dwarfs." Walt Disney himself did the voices of both Mickey and Minnie in the early cartoons, including "Steamboat Willie," the first cartoon with sound.
Walt's cartoon characters would also take on the role of a Scout troop. Disney also produced a movie; "Follow Me Boys," starring Fred Mc Murray. It was a movie about traditional Boy Scouts learning scouting skills, how to be leaders, but above all else how to have fun in the great outdoors.
The Boy Scouts of America honored Walt for his noteworthy service to the nation's youth by awarding him the Silver Buffalo, the highest award in scouting. He was also the recipient of the Presidential Medal of Freedom and numerous other Academy Awards and Emmys.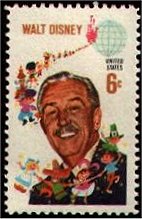 The United States honored the "Showman of the World" with a commemorative stamp on September 11, 1968.