A stamp ceremony program is the listing of an agenda of one or more speakers or events for the ceremony honoring the stamp being issued. A program can be both a ceremony program and an event listing. Only events that took place on the day the stamp was issued were included for this category. A Program should be produced by the postal service or in cooperation with the sponsoring organization of the event. These programs usually also provide those attending with some of the stamp's background. Here is a reference list of program numbers from the "Mellone's specialized Catalog of First Day Ceremony Programs & Events" by Dr. Scott Pelcyger, 1989 Edition.

995-C1 3c Boy Scouts 6/30/50
1145-C1 4c Boy Scouts 2/8/60
1145-C2 4c Boy Scouts 2/8/60
1199-C1 4c Girl Scouts 7/24/62
1199-C2 4c Girl Scouts 7/24/62
UXC7-C1 6c Boy Scout 8/4/67
2160-63-C1 22c Youth Year 10/7/85
2251-C1 22c Girl Scouts 3/12/87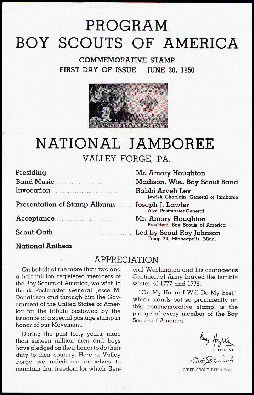 1950 Boy Scout Issue (#995-C1) [Front]
The early first day ceremony programs were printed on both sides. They were then folded in thirds for mailing, as this one was from the National Jamboree, the First Day of Issue site.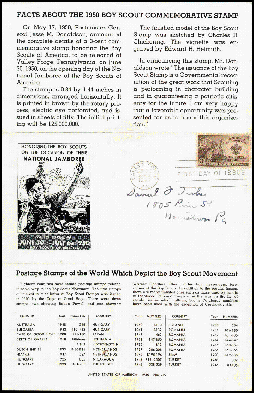 1950 Boy Scout Issue (#995-C1) [Back]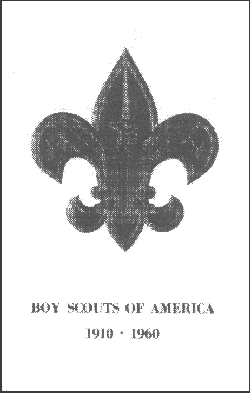 1960 Boy Scout Issue (#1145-C1) [Front]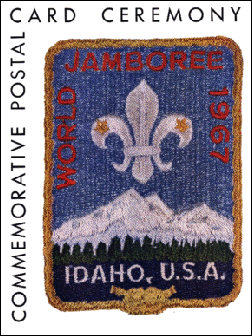 1967 Boy Scouts World Jamboree (#UXC7-C1)
1985 Boy Scouts 75th Anniversary (#2163-C1)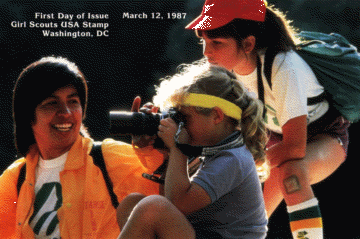 1987 Girl Scouts 75th Anniversary (#2251-C1)
First Day Ceremony Programs are also known for other issues, including the Celebrate the Century issue in 1998 and one territorial issue from the Canal Zone.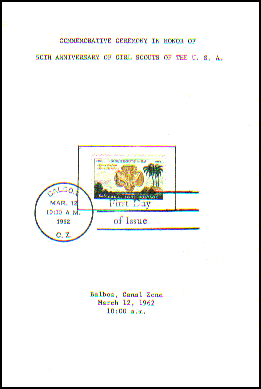 1962 Canal Zone Girl Scout Issue (#156)
The Canal Zone Girl Scout First Day Ceremony Program was printed in the Canal Zone. No similar program is known for the Canal Zone Boy Scout issue (#151).