US First Flights
Juliette Low, Girl Scouts #974
BSA 40th Anniversary #995
---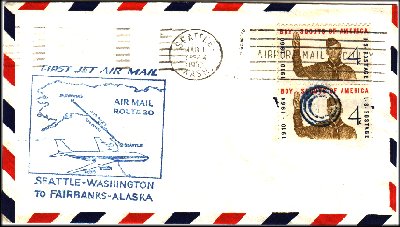 This cover was canceled 1 March 1960 at Seattle to commemorate the start of the first Jet air mail flight (Route 20) from Seattle, Washington to Fairbanks, Alaska. It is backstamped at Fairbanks, AK the same day.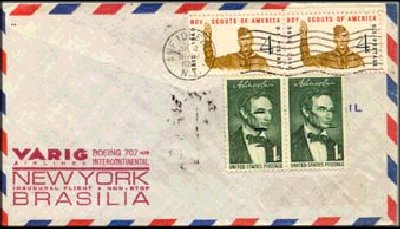 This airmail cover is franked with pairs of the 1¢ Lincoln and 4¢ Boy Scout stamps. The stamps are tied by an AMF Idlewild July 2, 1960 machine cancel for a Varig Airlines Boeing 707-420 first flight from New York to Brazilia.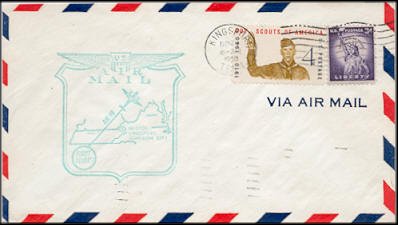 Cover canceled 1 November 1960 at Kingsport, Tennessee to commemorate the start of the first Southern Airways airmail flight from Kingsport to Memphis, Tennessee. The cover is backstamped at Memphis on the same day. The pilot for this flight was Eugene Hudman.